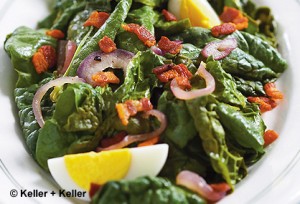 I have never liked spinach until this recipe. Of course everything is great with Bacon.
I made this after Joe and I were first married, loved it, lost it and found it again 20 yrs later. I still love it.
Salad
8 ounces young spinach
4 large white mushrooms, sliced
3 ounces red onion (1 small), very thinly sliced
2 large eggs – Hard Boiled
6 pieces thick-sliced bacon, chopped
1/2 C Bean Sprouts *Optional
Dressing:
3 T Bacon Grease
3 tablespoons red wine vinegar
1 teaspoon sugar
1/2 teaspoon Dijon mustard
Kosher salt and freshly ground black pepper
Remove the stems from the spinach and wash, drain and pat dry thoroughly. Place into a large mixing bowl and set aside.
Boil eggs, cool, remove and peel off the shell. Slice each egg into 8 pieces and set aside.
While the eggs are cooking, fry the bacon and remove to a paper towel to drain, reserving 3 tablespoons of the rendered fat. Crumble the bacon and set aside.
Transfer the fat to a small saucepan set over low heat and whisk in the red wine vinegar, sugar and Dijon mustard. Season with a small pinch each of kosher salt and black pepper.
Add the mushrooms and the sliced onion to the spinach and toss. Add the dressing and bacon and toss to combine. Season with pepper, as desired. (add Bean Sprouts*.) Serve immediately.