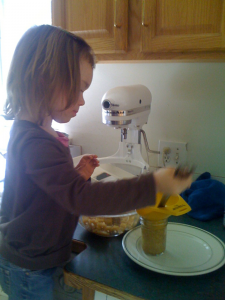 Livia (pictured) jars up fresh ground applesauce. She loves it and can eat about 1/3 of a jar or about 1 whole apple per serving. What a great way to get your child to eat good stuff.
20-25 lb favorite apples – 1 1/2 lbs of apples for each pint (25 lb box will yield about 16 pints)
2 lrg cans pineapple juice
Peel and core apples.
Cut apples in 1/2 wedges, as you are cutting the apples put them in a large bowl containing the pineapple juice.
(The pineapples juice acts as an anti-browning agent and taste sweeter than when using lemon juice and
I NEVER use a chemical alternative of ascorbic and citric acid mixture).
In a large stock pot of light syrup (2 1/4 C Sugar to 5 1/2 C Water, yield 6 1/2 C light syrup) or water cook apples. Boil for 5 minutes. Drain apples and use your choice of grinder or food processor to obtain your desired consistency (chunky or babyfood smooth). You can add cinnamon and sugar to taste if you prefer spiced applesauce. Pack applesauce into hot sterile canning jar, leaving 1/2 inch head room. Remove air bubbles, clean rims of jars, adjust caps and rings.
Hot bath process 30 minutes. Remove from hot bath, allow to cool, test seals. Store in dark, dry, cool place.