Amazing that one can use SO many Scotch bonnet peppers (Habanero) and jalapenos and it comes out sweet, mildly spicy and so tasty … a small bite on the end of the taste but it works.  I made 12 pints from this recipe and went through 1 1/2 jars the very next two meals.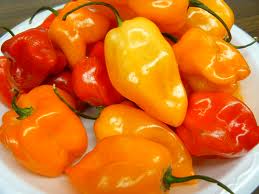 (Pepper Mash)
28 Habanero -seeded and chopped – Use Gloves!!
30 Jalapenos – seeded and chopped
1 large bunch Spring Onions – large chopped (Not Scallions) If unavailable substitute one small White Onion
1 small Yellow Onion – large chopped
6 Cloves Garlic
3 lrg Carrots – chopped
Put all chopped veggies into large stock pot cover with water, heat to a soft boil, reduce heat and simmer for 10 minutes. Using a large strainer strain water off cooked veggies/peppers (peppermash). Really – I think this is where the heat reduction happens and the flavor takes over. Return peppermash to stock pot and add the following:
1/2 C Key Lime Juice
1/2 T Canning Salt
2 C Sugar
3 C Cider Vinegar
Bring to soft boil, reduce heat and simmer for 15 minutes.
You can now make a sauce by using your blender and puree (Cream) mixture until smooth (Be careful when using a blender with hot stuff – vent well.)
or you can keep mixture in the relish form.
I use 1/2 pint jars. Fill jars, clean rims, seal and hot bath process for 20 minutes. Enjoy.
**** By the way … I tried some of this sauce with my teriyaki and it was awesome on a steak or a hamburger.