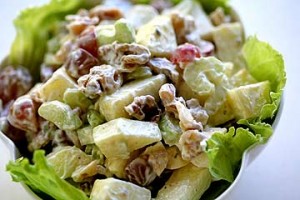 This salad is an old fashion favorite, sweet crunchy and a whole lot of country. For a lower calorie version you can substitute yogurt for the mayo, but live a little the mayo rocks.
Salad
2 Lrg Apples (Red delicious for the flavor and color)
2 rib Celery
1/2 C Nuts – Walnuts or pecans
Dressing
1/2 Mayo (can substitute Yogurt
1 T Milk
1 tsp Sugar
** Optional
1/2 Seeded Grapes – split in half, add to apples
Wash, quarter and core apples, dice into bite size pieces. Dice celery, chop nuts and add to apples.
Mix dressing of mayo, milk and sugar, blend well. Pour dressing on apple mixture, mix well and chill before serving.
Serve in lettuce boats