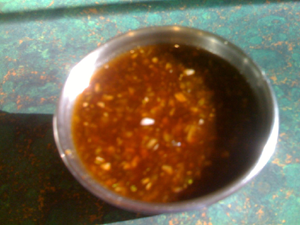 You'll want to use a food processor or grinder for this.
Vegetable base:
1/4 Green Bell Pepper
1/4 small Yellow Onion
1/2 Celery Rib
2″ piece Fresh Ginger
5 Cloves Garlic
1/2 lrg Jalapeno
Process all above ingredients in processor until pureed.
Sauce:
2 T Oyster Sauce
2 T Soy Sauce
2 T Fish Sauce
1 T Olive Oil
1 tsp Sriracha
1/4 C White Sugar
Juice of half a lime
Mix well and add vegetable base.
Marinate on chicken, shrimp, pork. Coat meat/chicken/shrimp with marinate and let sit for several hours (the longer you let it set the better, overnight is the best)
or
Salad dressing, add additional 1 T oil olive and shake before serving.
Can be stored for several weeks.