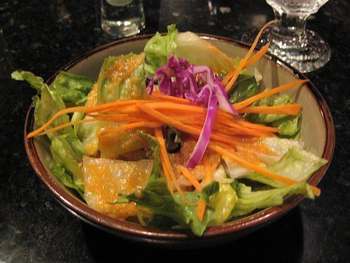 When spooned over a simple iceberg lettuce salad this easy clone transforms your bowl of greens into a great start for any meal. Making the dressing is as simple as dumping the ingredients into a blender, whizzing it up, and popping it into the cooler to chill.
1/2 C minced onion
1/2 C peanut oil
1/3 C rice vinegar
2 T water
2 T minced fresh ginger
2 T minced celery
2 T ketchup
4 tsp soy sauce
2 tsp sugar
2 tsp lemon juice
1/2 tsp minced garlic
1/2 tsp salt
1/4 tsp ground black pepper
Combine all ingredients in a blender. Blend on high speed for about 30 seconds or until all of the ginger is pureed. Chill.
Makes 1 3/4 C