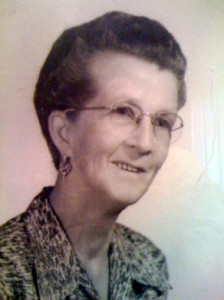 I found this in a handwritten book. I remember Grandma Rudy Wilson's garden and her fence of rainbow sweetpeas that surrounded it. Please take this endearing recipe as a reminder of our heritage (transcribed exactly as written). I wonder what was in her spice bag!
Roundup out of the garden
10 # bucket ripe Tomotoes
10 # bucket ripe Cabbage
10 # bucket ripe Onion
10 # bucket ripe Cucumber
10 # bucket (scant) Chili Peppers – seeded
1/2 doz real Mangos
1/2 C mixed spice (in a bag)
1/2 gal cider vinegar (or more if needed)
2/3 # bucket sugar
1/4 C Salt
Grind first six ingredients in food grinder with coarse knife, add salt. Let stand an hour or more, then drain. Add rest of ingred. and cook slowly till thick. Take out spice bag and seal while hot.