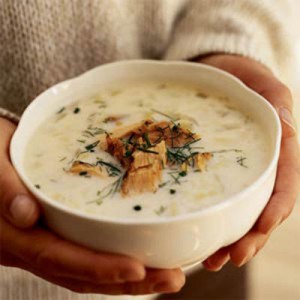 This is a chowder style soup using milk base. You can adjust this recipe to fit you taste. But use this base and then add corn, cooked diced potatoes, or a savory herb.
1 can Canned Salmon (clean and deboned)
1/4 C Celery (1 rib) – fine chop
1/4 C Onion – fine chop
1/4 C Green Bell Pepper – fine chop
1/8 C Carrot – Shredded
1/4 tsp Garlic – grated
4 C Milk
Salt
Pepper
2 T cornstarch for thicken (if needed)
Saute vegetable, salt, pepper in a small amount of oil in sauce pan until onion are beginning to look clear.
Add milk and salmon, bring to gentle boil and reduce to simmer for 10 minutes. If you prefer a thicker soup, mix cornstarch with small amount of water and add to soup until desired thickness.