This is such a great all around cake. I remember my Mom baking this and what a great smell in the kitchen, warm and delicious. The praline icing is so good. I bake this one for Jorel on his birthday, he loves it.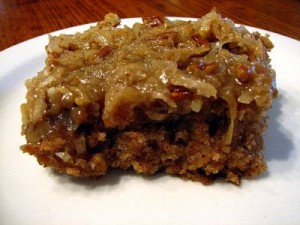 1 1/4 C boiling Water
1 C Oatmeal
1/2 C Butter
1 C Sugar
1 C Brown Sugar
2 Eggs
1 tsp Vanilla
1 1/2 C Flour
1/4 tsp Nutmeg
3/4 tsp Cinnamon
1 tsp Baking Soda
1/3 tsp Salt
Preheat oven to 350º. Soak oatmeal in water 20 minutes, set aside. Mix together butter sugars, eggs and vanilla. Add flour, nutmeg, cinnamon, baking soda and salt. Mix in oatmeal. Pour into greased and floured 9 x 13 baking pan, bake at 350º for 30 minutes. Frost warm with frosting below.
Icing
1/2 C Butter
3/4 C packed Brown Sugar
3 T cream or Milk
1/2 Nuts – chopped
3/4 C Coconut – flaked
Melt butter in saucepan. Add brown sugar and milk bring to boil. Add nuts and coconut. Pour over warm cake. Put under broiler until slightly bubblely. Watch carefully it will burn.