This is one of the easiest frosting ever and especially made for my angel food cake.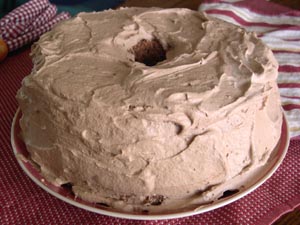 1 pint Heavy Whipping Cream
1 Box Jiffy Fudge Frosting – If you can find the "Jiffy" brand of fudge frosting it's the bomb for this recipe (stock up on them when you find them). However you can also use any dry frosting mix available.
1/2 tsp vanilla
Chill large mixing bowl and beaters.
Whip cream and vanilla, slowly add dry frosting mix and mix until it is Whipped Creamy and light.
Frost cake and keep cool (refrigerate) until serving.