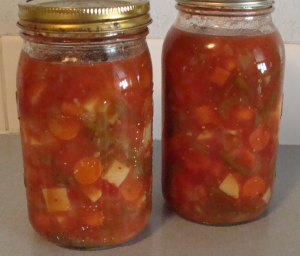 This is a fall put away for the year project. It must be pressure canned (make sure all your canning equipment is in good order, check all canner seals and valves) This soup is hardy and super versatile, use as is, mix with a favorite meat or poultry, make a pot pie, use as a veggie base in a winter soup. Makes 52 pints (26 qrts)
1 lrg stalk celery
5 lrg green Bell Peppers
5 lrg Onions
1 lrg head Cabbage
10 lbs white Potatoes
6 lbs Carrots
4 14 oz cans Whole Corn
5 14 oz cans Tomato Juice
1 C garlic
1/2 box Barley
12 C water
Clean and chop all vegetables – exclude water) and mix in a super big bin. (A large plastic storage bin works great)
I process in two batches. Half the vegetable mixture into a large stock pot add 6 C water per batch and bring to a soft boil.
Hot pack – clean jars, remove air bubbles, clean rims, adjust lids and rings.
Arrange in your pressure canner as manufacturers instructions. Process using 13-15 pounds of pressure for 60 minutes.