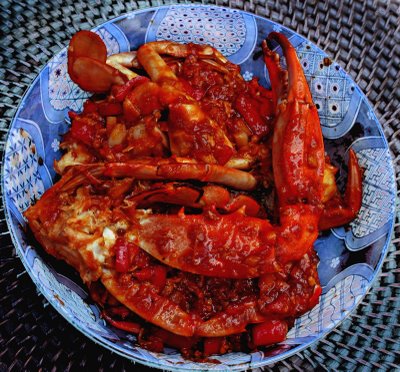 2 medium size crabs or 4 king crab legs per person (You can also use 8 lrg shrimp with shells on per person)
1/2 C Peanut Oil
2 tsp grated fresh Ginger
3 cloves Garlic, finely chopped
2 T Green Onions (use green ends)
3 fresh Red Chilies, seeded and chopped
1/4 C Tomato Sauce
1/4 C Chili Sauce
1 T Sugar
1 T Soy
Fry crabs in peanut oil, use sections that will fit in your wok. Turning them so all sides change color. Remove and set aside.
Turn heat to low, fry garlic, ginger, green onions and red chilies stirring constantly until cooked (not browned) Add tomato sauce, sugar and soy sauce, bring to boil
Return crab to wok and coat each piece with sauce and allow to simmer in sauce for 3 minutes, adding a little water if sauce reduces too much.
Serve with rice and steamed green vegetables