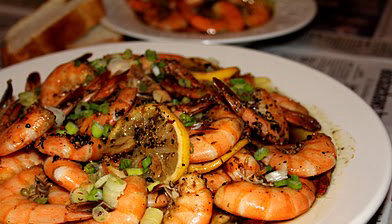 This has nothing to do with the grill or bbq sauce. But it is awesome. Just don't eat it everyday although you will crave it!! Enjoy this one.
2-2 1/2 lbs. Jumbo Shrimp, unpeeled (20) shrimp to a pound), split and deveined
3 stick Butter — REALLY — Don't whine just use it. It's a treat
1 T Creole seasoning (or to taste)
1 T ground Black Pepper
1 tsp of Salt
1 1/2 tsp cayenne pepper (half amount for less spicy)
1/4 tsp of ground Rosemary
1/4 C good beer
1/4 C Worcestershire sauce
1 T fresh squeezed lemon juice
1/4 C Green Onions or Yellow Onion, very finely minced
1 Lemon, sliced
5 cloves of crushed Garlic
1 T chopped parsley
Tabasco or Sriracha (to taste)
Preheat oven to 400º. Melt butter/margarine with oil in skillet (prefer cast iron ). Add remaining ingredients except shrimp. Mix and simmer 5 minutes. Place shrimp gently stirring well, don't bruise shrimp up. Cook at 400º for 15-20 minutes, turning once.
Serve: Hot Soppin Bread (French bread works well)