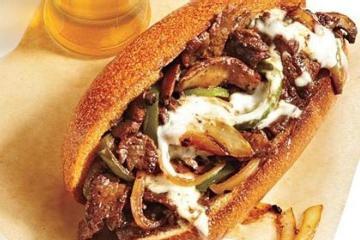 1 – 1 1/2 lb lean Roast – If am lucky enough to have antelope but a small beef roast will work
2 14 oz can Beef Broth – You need enough to cover meat
1 lrg Green Bell Pepper – sliced thin strips
1 lrg Onion – sliced
1 C Mushrooms – washed and sliced
2 T Butter
Shredded or sliced Mozzarella Cheese
Italian Bread – 8 inch section for each serving
Spice Blend:
1/4 tsp Salt
1/2 tsp Pepper
1/2 tsp Garlic Powder
1/2 tsp Onion Salt
1 T Italian Seasoning
1/4 tsp Hot Pepper Flakes
1/2 tsp Oregano
Rub meat with 1/2 of spice blend and in a skillet heat small amount of oil to brown meat. Brown meat on medium/high until a deep brown on all sides. Remove and set aside. Deglaze skillet with a small amount of broth and add back to broth.
Heat broth with remaining spice blend, add brown meat and heat to a gentle simmer.
Simmer until meat is tender 1 – 1 1/2 hrs. Remove and slice meat into thin shaved slices and return to broth. Keep warm and keep all broth for dipping.
In butter, saute onions, green peppers and mushrooms until mushrooms reduce to half and onions are clear. Keep warm.
Split and toast Italian bread, add meat, vegetables and cheese.
A good accompaniment is a small bowl of broth for dipping.
Great served with my canned Pickled Vegetables and homemade French Fries or/and Onion Ring.