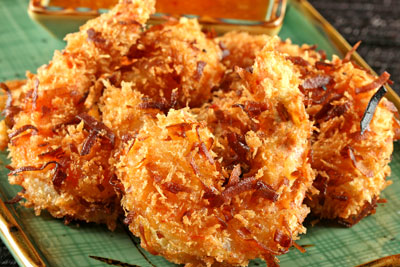 This is written for an appetizer but can be increased for a main course, add additional 1/2 pound large shrimp.
1 lb Large Raw Shrimp ( I use large size 20-30 count per pound), clean, peel and devein shrimp.
1 1/4 C Shredded Coconut
1/2 C White Flour
1/4 tps Salt
3 Eggs
3 C Frying Oil
Sauce:
1 C Plain Yogurt
1 1/2 T Curry Powder
1 tsp Sugar
Heat oil to 350 degrees in deep fryer or large pot.
Mix flour and salt, set aside. Beat eggs until foamy.
Place cleaned shrimp in egg, then four, egg again then coconut. (Important to double egg for crispyness). Place in hot fryer and fry until golden and crispy brown. Drain on a paper towel.
Mix yogurt sauce and serve with hot shrimp.