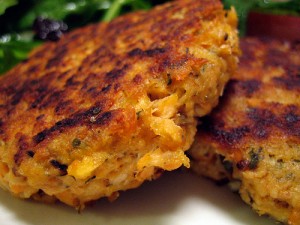 This on one of Dad's favorites.
1 can canned salmon – clean from skin and bones
1/3 C fresh Celery – chopped fine
1/3 C Bell Pepper – chopped fine
1/3 C Yellow Onions – chopped fine
1/2 tsp Garlic – grated
2/3 C Saltine Crackers – crushed fine
1 Egg – beaten
1/4 tsp Hot Sauce – Sriracha
1 T Worcestershire Sauce
1/2 tsp Parsley Flakes
1/4 tsp Black Pepper
1/2 tsp salt
Lemon wedges
Oil for frying
Mix all ingredients together (except oil) and blend throughly. If you let it set up for half an hour they retain their shape better.
Heat skillet to medium high with enough oil for frying. Make Patties and place in hot oil, fry patties until golden brown. About 10 minutes, turning when needed.