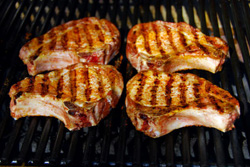 The secret of this recipe is the sauce.
5-6 Pork Chops – 1 inch thick
Salt
Pepper
1 C Molasses (I prefer Brer Rabbit brand)
1 C Bourbon (Jim Beam)
1 C Heavy Cream (do not use half/half)
Sauce: Heat the molasses and bourbon is medium size pan (mixture will bubble up when stirred and can make quite a mess if you use a small pan.)
Heat Molasses and Bourbon to a gentle boil, reduce heat and continue a very gentle boil stirring often until reduced to 1 cup. Add heavy cream, bring to a gentle boil and again reduce to 1 – 1 1/4 cup glossy smooth sauce. Keep warm, but be careful not to let it go to sugar by overcooking it.
Generously salt and pepper Pork Chops
Heat charcoal high or gas grill to 350 and grill chops.
Serve grilled chops with a generous helping of Bourbon Sauce, baked potatoes, corn
and a fresh salad.