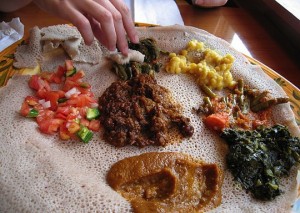 Ethiopia – Antelope Stewed in Red Pepper Sauce
2 lb. lean boneless Antelope (elk, deer, beef), cut into 1″ pieces
2 Onions, finely chopped
1/3 C Niter Kebbeh (Spiced Butter)
2 cloves Garlic, minced
1 tsp finely chopped Ginger Root
1/4 tsp ground Fenugreek
1/8 tsp ground Cloves
1/8 tsp ground Allspice
1/8 tsp ground Nutmeg
3 T Paprika
2 T Red Pepper Paste (aka Spice Paste, Berbere)
2/3 C dry Red Wine
1/2 C Water
8 oz Tomato Sauce
Juice of 1 Lemon – retain lemon to add to stew
2 tsp Salt
Black Pepper
4 Boiled Eggs
In a large stewpot, cook the onions over moderate heat for about 5 minutes, or until they are soft and dry. Do not let brown or burn.
Stir in the niter kebbeh. When it heats up, add the garlic, ginger, fenugreek, cloves, allspice, and nutmeg. Stir well. Add the paprika and berbere, and stir for 3 minutes. Add the wine, water, tomato sauce, and salt, and bring the mixture to a boil. Add the meat and turn the pieces around in the sauce to coat. Cover the pot and simmer the beef for about 1 hour over low heat. Season with black pepper.
4 hard-boiled eggs
Salt and Pepper antelope piece
In a heavy cast iron skillet or enamel stewpot, dry cook the onions over moderate heat for about 5 minutes. Do not let brown or burn (This dry fry method releases a slightly smokey flavor). Stir in the butter (niter kebbeh). Then add the garlic and spices. Stir well. Add the berbere and paprika, and sauté for 3-4 minutes. Pour in the wine and water and bring to a boil. Cook briskly, uncovered, for about 5 minutes.
Place antelope pieces into the simmering sauce, turning the pieces about until coated on all sides and the lemon you squeezed. Reduce the heat, cover, and simmer for 30-45 minutes. (It's a stew you can let it cook up a bit, adding a water if liquid cooks down) **Here's when you can a diced carrot, potato, and/or Bell Pepper to add more veggie base, you might need to adjust liquid)
Meanwhile, piece the hard-boiled eggs with the tines of a fork, piercing approximately 1/4″ into the egg all over the surface. After the meat has cooked, add the eggs and turn them gently in the sauce. Cover and cook the Lope Wat for 15 more minutes. Add pepper to taste.
Serves with Green and yellow peas, spicy lentils, cooked greens, stewed carrots, fit fit salad, and flat bread (injera if you can find it)