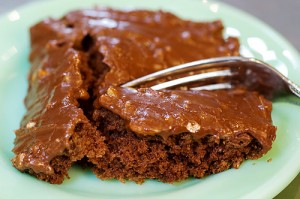 This is one of my Mom's favorite cakes. I remember people coming over to visit and if she didn't have one baked she would get up and whip one together. Visitors always stayed waiting to eat this super great cake with a fresh cup of coffee.
2 C Sugar
1 stick Butter
4 T Cocoa
2 C Flour
1/2 C Shortening
1 C Water
1/2 C Milk mixed with 1 T Vinegar
2 Eggs
1 tsp Soda
1 tsp Vanilla
Heat oven to 350ª and grease sheet cake pan
Bring Butter, shortening, cocoa and water to a rapid boil. Pour into bowl with sugar and flour. Mix well and add milk, eggs, soda and vanilla. Pour into greased sheet cake pan. Bake 350ºfor 20 minutes.
Five minutes before cake is done mix frosting
Frosting
1 stick Butter
6 T Milk
1 tsp Vanilla
1 T Cocoa
1 box powder sugar
1 C chopped Nuts
Spread over cake as soon as it gets out of the oven.