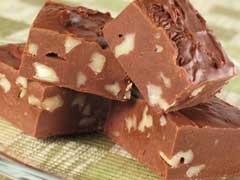 One of my favorite of all chocolate creations. I have such great memories of my Mom and Aunt Hansel making this fudge and letting me lick the spoon. This certainly is easy and an all time treat.   My Aunt's original handwritten recipe
12 oz Milk Chocolate Chip
6 oz Semi Sweet Chocolate Chips
4 1/2 C Sugar
1/2 C Butter (1 stick)
1 can evaporated milk (14 0z)
7 oz Marshmellow Cream
1 tsp vanilla
Butter a 9 x 13 cake pan.
Measure chips, marshmellow cream and vanilla and set aside.
In a large pot slowly melt butter, add sugar and evaporated milk. Stir constantly bring to a soft boil continue to stir for 14 minutes.
Remove from heat, while hot – add Chocolate chips, vanilla and marshmellow cream. Beat until all chips are melted and everything is incorporated. Pour into the buttered 9 x 13 pan and let set-up for 2 hours. Cut into 4 x 4 squares, foil wrap and store in cool dry place. I love this stuff…..Enjoy.