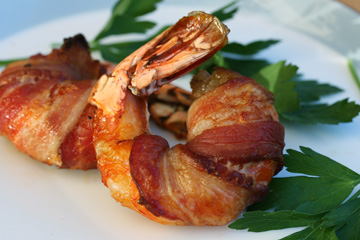 Shrimp count per size * Extra Large 26-30, Large 31-35, Medium Large 36-40
Figure 6 lrg or 8 med/lrg shrimp per guest
1 – 1 1/2 lb Extra Large Shrimp (cleaned, shelled, deveined)
1 pkg Bacon
1 Jalapeno – sliced into thin strips lengthwise
Cheese 1/8 inch thick 2 inch long
Prepare each shrimp by placing a small slice of jalapeno and cheese in the middle, wrap each with a half of piece of bacon (or enough to cover shrimp) and secure with a toothpick. These can be made up in advanced and stored in frig for 1 day.
Heat charcoal or gas grill to 350 and grill shrimp until bacon is cooked.
or
Arrange on a broiler rack. Broil bacon wrapped shrimp, turning occasionally, 3 to 4 inches from heat for about 8 to 10 minutes, until bacon is crisp and browned.
Serve with a Chipotle Sauce